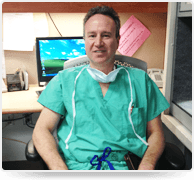 Dr. Mark Fraiman is an accomplished hepatobiliary and pancreatic surgeon (liver and pancreas surgeon) at The University of Maryland St. Joseph Medical Center Liver and Pancreas Center.
A native of Baltimore Maryland, he completed his advanced liver and pancreas training in California in 1997 at UCLA, a world-renowned medical center.
Since completing his training, Dr Mark Fraiman has earned a reputation as a high-volume, highly accomplished and respected liver and pancreas cancer surgeon in Baltimore, Maryland. He specializes in the surgical management of complex liver, biliary, and pancreatic diseases.
Accomplished Pancreatic & Liver Cancer Surgeon
A specialist in the surgical treatment of both liver and pancreatic cancer, Dr. Fraiman provides patients with a comprehensive treatment plan. He is well-known for performing the whipple procedure with expert skill, short operative times, and superior outcomes.
Dr. Fraiman has become a leading liver cancer surgeon, performing a number of major liver resections. Since founding the Liver and Pancreas Center at St. Joseph Medical Center in 2006, Dr. Fraiman's complication rate for both pancreatic and liver surgery is very low in comparison with published benchmarks.
Top-Notch Team on Your Side
Dr. Fraiman treats his patients with liver or pancreatic cancer using a multidisciplinary, holistic, and patient-centered approach at the St. Joseph Medical Center in Baltimore, MD.
His team of specialists includes medical oncologists and radiation oncologists who collaborate to formulate a comprehensive treatment plan. Compassionate and patient-centered care is a priority for him and his team at the Liver and Pancreas Center of St. Joseph Medical Center.
Awards & Honors
Named "Top Doc" by Baltimore Magazine Seven Years in a Row
Honored as "America's Top Surgeon" in 2014
Featured in Guide to America's Top Surgeons